Real Plast - Since 2007
RAMDEV PROFILES situated at tajpur (PRANTIJ) 50Km. from Ahemdabad, for manufacturing high quality upvc modular furniture under the brand name of "REAL PLAST" real plast drive an excellence and an insatiable quality and customer satisfaction was accredited with ISO 9001:2015.

Real Plast is brand synonymous with quality and reliability. A household name in upvc modular furniture, Real plast is your go-to-ecologically aware and pocket-friendly company when it comes to designing your dream household interior. Real Plast offers a diverse range of unrivaled products in strength, reliability, and durability with complete expertise in the interior technicalities involved building or renovating your home or office, we have established the industries quality, range, and service standard.

Real plast commitment to the environment has resulted in manufacturing products with lesser carbon footprint. real plast has the widest range of green choices for our customers which not only includes products but also services such as green interiors and recycling.

Currently present in over 100+ cities with 1 company owned stores and over 1000+ dealers, real plast is one of the largest divisions of upvc modular furniture manufacturer company in india. Real plast has edified a sophisticated imported state-of-art manufacturing plant at tajpur having installed capacity of 30000 sq. feet/day.

Real plast is a leading upvc modular furniture manufacturer.real plast has opted for a long term policy which means to produce quality product to keep its client satisfied.
KEY FEATURE AND BENEFITS
Budget Friendly
Termite Proof
Recyclable
Easy to Install
Fire Retardant
Eco Friendly
Moisture Proof
Water Proof
Bimal Patel
I use last five year modular kitchen in real plast save trees and save environment budget friendly product
Ranjit Patel
(Translated by Google) #Real plast company but color series super che #Quality ek number ave che #Service biji company karta bau sari che (Original) #Real plast company ma colour series super che #Quality ek number ave che #Service biji company karta bau sari che
prakash patel
Excellent quality & services
Bhavin Patel
My show room in gota Ahmedabad Real plast material is really good and colour collection too good best for modular kitchen and home furniture
Milan Makwana
PVC Profile , Makes PVC doors PVC panels and very good in quality
Prajapati Vijay
Nice material and services Specialy in modular kitchen
Kiran Patel
Nice product for save envorment Very nice range and good collection
Fiber Zone
I was working since 3 years with real plast, in my opinion it is the best upvc sheet in market till date there is no complaint about the product budget friendly and eco friendly work.
Rahul Parmar
Good service and fine finishing work.Thank you for designing nice modular kitchen & modular furniture in very cheap rate. Value for money, excellent quality and service
Ashok Panchal
Nice product
Save Environment
We believe in environmental preservation and care, as evidenced by the manner we design and manufacture our products. From the raw materials to the design process, everything is environmentally friendly.
This provides a purposeful focus on environmentally friendly company strategies such as energy conservation, the use of sustainable components, and resource conservation. Because the stabilisers used to make UPVC profiles are non-toxic, they do not cause any harm when utilised in human environments. We start with recycled and lead-free UPVC, which is then melted and extruded into a continuous profile. The trash generated during our production process is disposed of in proper ways, ensuring that no pollution of water or land occurs.
We are very aware of our trash and actively seek for opportunities to reduce, recycle, and reuse. We form bonds not only with people but also with our surroundings.
Learn More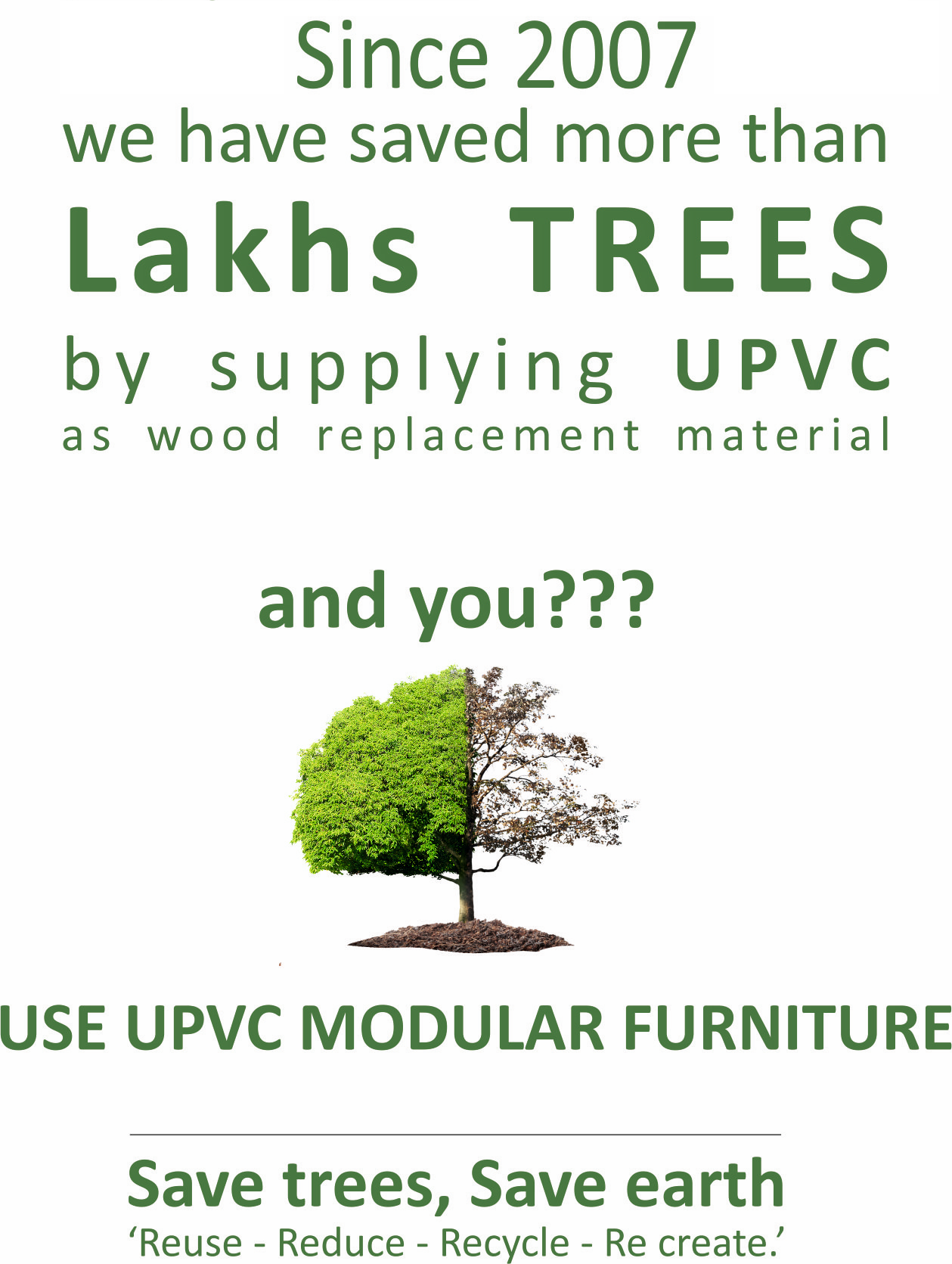 Wood is a priceless gift from Mother Nature. We consume the roots of trees that our forebears planted years ago. Do we, on the other hand, consider the future generation? No, the answer is no. Because the practise of planting trees has nearly ceased and has become non-mandatory in recent decades. This has resulted in a significant loss of green cover on the planet.
Today, we have two choices: enormous tree planting or switching to wood substitute products. The first option is more significant, but it will take years to complete; nevertheless, the second option is right in front of us, and we can begin using it right now.
As a result, we've introduced upvc items as a very effective wood substitute for a variety of applications. The usage of upvc allows for recycling, which can save multiple trees in a single life cycle.
So, instead of using natural wood, start using upvc. After all, we must consider our children's future.